---
---
Joiful's Kitchen
Our Mt. home kitchen

Posted by
Joiful
(
My Page
) on Mon, Oct 3, 05 at 12:12
---
Follow-Up Postings:
Wowzer...that's stunning...
---
Gorgeous!
Absolutely Gorgeous... like a magazine photo-spread. Love the granite color with the uniquely lovely cabinetry. Everything blends so beautfully! Enjoy!
---
RE: Our Mt. home kitchen
Outstanding!! What a lovely, warm space you have created with such unique cabinetry detail. And the view!!
---
RE: Our Mt. home kitchen
Thank you so much for your nice comments. I'm so glad you think it warm....we want or family and guests to feel right at home and welcome. Here are a couple more pictures....one that was featured in a local magazine and one of the deck & beautiful views surrounding us.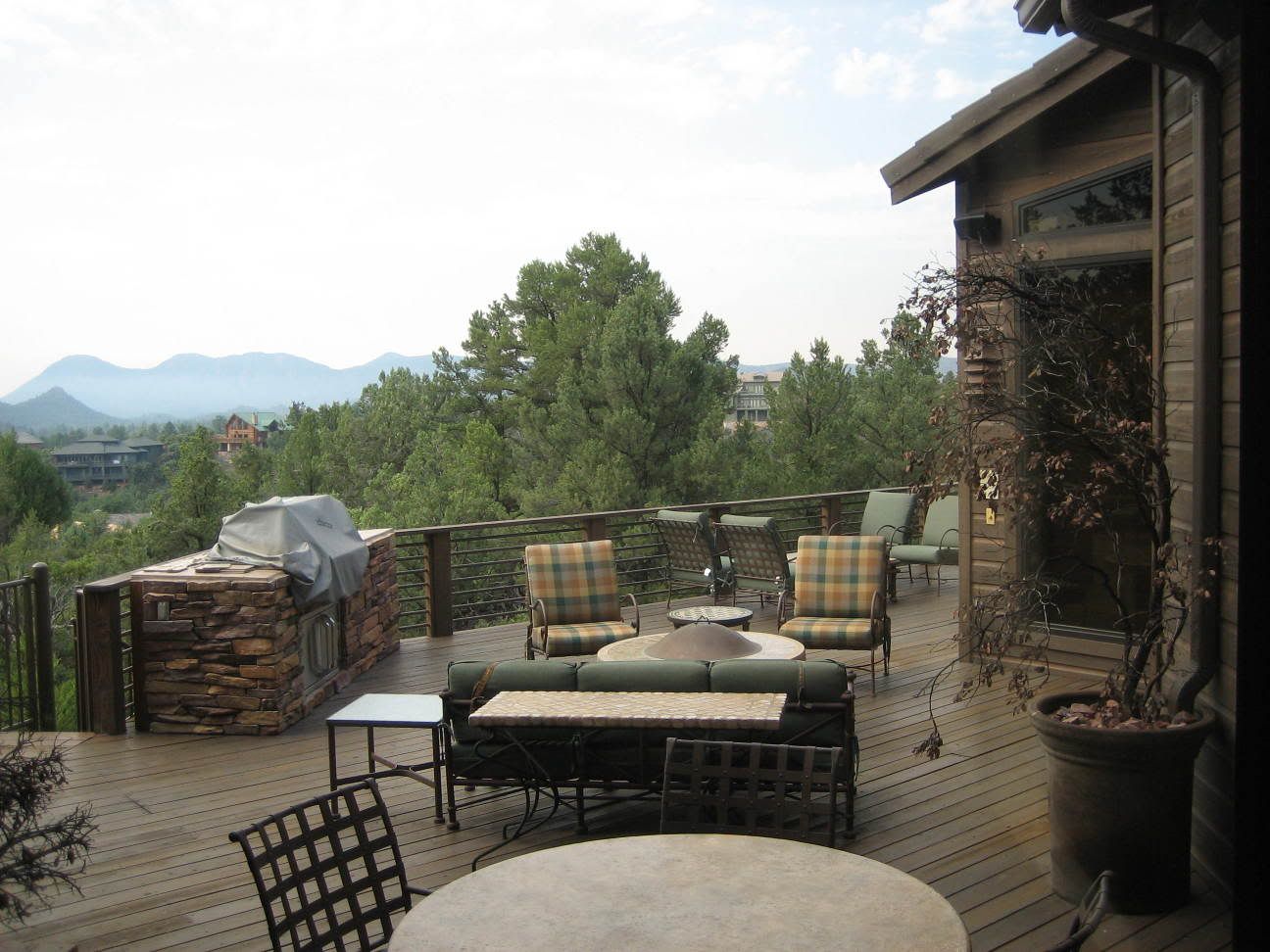 ---
RE: Our Mt. home kitchen
That is one beautiful kitchen and home. You should be very proud!!!!!
---
RE: Our Mt. home kitchen
Your home is fabulous! Gorgeous granite! What kind/color are your floors? They are beautiful, and we're just in the stage of starting to look at flooring. Although I love the tile we have now, when we build I really want wood floors as we're not used to having slab construction and I don't want to stand around on a hard surface all day! Wood floors sound like the way to go!
---
RE: Our Mt. home kitchen
Thank you April & MsGhost! My floors are hickory/pecan solid hardwood, 5 inch wide planks. We researched our choices for such a long time before deciding. Then it took a long time to decide on the color stain. When it was completed....we were thrilled with the choices we made. The hickory/pecan is very durable and has a beautiful grain. Our guests always comment that our wood floors look amazing.
You can't go wrong with wood floors...they are beautiful, warm, easy on the feet and add great value to your home.
---
RE: Our Mt. home kitchen
Thanks for posting these in Kitchens!! You know how much I love your home!
TC
---
RE: Our Mt. home kitchen
twochicklets...your most welcome! It sure does make my day to hear such nice things....thank you!
---
RE: Our Mt. home kitchen
Joiful - Your kitchen and home and view are all spectacular!!

GREAT job!! What a wonderful thing to wake up and have your morning coffee looking around at your lovely home and even better the beautiful mountain view! You are blessed indeed!
---
RE: Our Mt. home kitchen
What a magnificent home. When my kitchen remodel was finally complete, I decided to leave a lot of empty counter space. It's been difficult to do because it's against my nature. I am a lover of 'things'. That's it! I lasted a couple of months. I'm going shopping for kitchen counter accessories. You have such great 'things' sitting around and it really warms it up. Where did you ever find so many unusual pieces?
---
RE: Our Mt. home kitchen
Where do you live? It is stunning and so is your home! I am so envious!!!

Amy
---
RE: Our Mt. home kitchen
sage63, thanks! Yes, I do feel blessed & I do love having my morning coffee and looking at the beautiful scenery. The air is crisp and clean and the birds sing their little hearts out.

Maggie, I know exactly what you mean....I try not to clutter my counters up too much, but it's hard...especially when you find so many unique things! : ) Most of the "things" were purchased at store and botiques here in Arizona. Some I ordered through catalogs.

Amy, thank you! I live in Arizona. We live mostly in the desert (Phoenix area) but built this mountain home as a respite from the AZ summers. The drive takes less than an hour and a half, but the changes in temps and scenery are dramatic.
---
RE: Our Mt. home kitchen
Joiful, yet another question on those gorgeous floors! Did you mean that the wood is hickory with a pecan stain, or is the floor a combination of two different hardwoods? The floors we had seen in our "floor quest" were made by Homerwood, and they were a hand-scraped Amish hickory--and also in a 5" width. They also had some that were hickory but a bit lighter in color. But, as we're just starting this research, for all I know they could have a pecan stain as well! Our mantel is pecan, and it's a beautiful color but a bit lighter than the hickory floors we'd seen. Yours are JUST perfect!!
---
RE: Our Mt. home kitchen
MsGhost, from what I have read, they usually mix the two woods together as they compliment each other in their grain and looks. The stain is a whole other issue. The hickory/pecan is also a very good choice for a durable, hard wood.
The Amish Hickory sounds beautiful....I would love to see a picture of it.
Here is a link that might be useful: Hickory/Pecan
---
RE: Our Mt. home kitchen (picture)
MsGhost, I found this link to the Amish Hickory
Here is a link that might be useful: Amish Hickory Pictures
---
RE: Our Mt. home kitchen
Oh my gosh its stunning !! My husband has always mentioned moving to Montana ! Now I see why . Congrats on your beautiful home !
---
RE: Our Mt. home kitchen
Wow!!! That is the most beautiful space I have ever seen! Bravo to you on your wonderful choices. What a location!!! Can you share information on your artwork? Enjoy your beautiful mountain retreat.
---
RE: Our Mt. home kitchen
---
RE: Our Mt. home kitchen
Your new kitchen is absolutely stunning. What kind of wood is your cabinets, and what granite did you use. I also love the detail in the cabinets. It is so unique. Is it a notched beading? Also, who made your lighting? I am shopping for iron chandeliers right now and haven't found nything that has wowed me.Lovely!!
---
RE: Our Mt. home kitchen
Thank you Maggie, JoMar & palsaus...your nice comments mean a lot to me.
Maggie you asked about my artwork...the painting above the fireplace was a commissioned piece from an artist by the name of Miska. I love her work. The other two pieces hanging on the end of the armoire are from a Brazilian artist.
Palsaus, our cabinets are alder and yes, the kitchen cabinets do have a notched beading. Regarding the iron chandelier, I saw a picture in a magazine and fell in love with the style. There is a custom iron shop here that can duplicate similar designs. The granite is called Tunas Green.
Here is a link that might be useful: Tunas Green Granite
---
RE: Our Mt. home kitchen
I am OD'ing on beautiful kitchens here on the forum this evening. Truely SPECTACULAR. I was wondering where the location was too? I was going to ask if you had "good skiing" because if you did you could probably charge $500+ a night for a guestroom! LOL!

Tammy
---
RE: Our Mt. home kitchen
Joiful, thank you so much for the helpful flooring links! Who knew there were so many different companies/woods out there! We also saw a floor in a house that was Tasmanian Oak--how many other exotics are out there! I just wish I had your kitchen right now....we've been spending part of yesterday and today with the septic guy and his backhoe, and the "finished product" seems light years and difficult decisions away! I'm SURE you're very much enjoying your house of perfection!
Comments:
Joiful, I am in the process of framing right now on our new home. I have looked and looked and looked for the right combinations of textures and colors for my kitchen and it has not been an easy task for me. While browsing thru this kitchen blog I was stopped dead in my tracks. Your kitchen is it. It's exactly what I've always wanted. I have cut and pasted all the questions and responses about your kitchen and was wondering if you could supply any other information that would help me duplicate it as much as possible. My kitchen layout is different from yours but I can still see potential characteristics. I live in the mountains of North Georgia and it would be so perfect. Honestly, it's the most beautiful kitchen I have ever seen. Wow...
<< Home